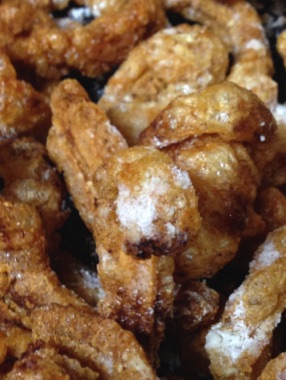 Cinnamon Crunch Snack:
Ingredients:
1 bag unseasoned pork rinds
Coconut oil (aerosolized)
2 teaspoons cinnamon powder
2 Tablespoons of xylitol
2 Tablespoons of erythritol (granulated)
1/2 teaspoon sea salt
2 Tablespoons of Trader Joe s stevia powder (alternately Confectioner's style Swerve or ground erythritol)
•Mix cinnamon, xylitol, granulated erythritol and sea salt in a bowl.
•Place the contents of bag of pork rinds on greased cookie sheet (greased with coconut oil).
•Liberally spray aerosolized coconut oil on pork rinds.
•Dust the pork rinds with the dry mixture.
•Preheat oven to 350 degrees.
•Bake pork rinds in oven until browned about 4-5 minutes. Watch carefully so they don t burn.
•Remove from oven and dust with powdered stevia (or confectioner's style erythritol or Swerve).
Nutritional information (serves 4-6) per large bag (3.5 ounces):
Calories= 104, Fat= 6.4 grams, Protein= 10.6 grams, Net carbs= 0.8