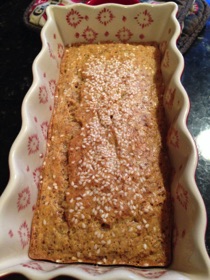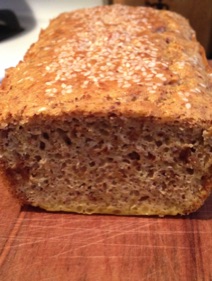 Sesame Bread (Low Carb)
Ingredients:
1/2 cup almond meal
1/4 cup almond butter
1/4 cup peanut butter
1/4 cup golden flaxseed meal
3 large eggs
2 Tablespoons soda water (mineral water)
2 teaspoons baking powder
2 Tablespoons melted butter
1/2 teaspoon sea salt
1 Tablespoon xylitol or erythritol
1 Tablespoon apple cider vinegar
1 Tablespoon sesame seeds
-Melt butter and place in large mixing bowl.
-Preheat oven to 350 degrees and grease a loaf pan with avocado or coconut oil.
-Beat eggs and add to melted butter.
-Combine remaining ingredients except sesame seeds and mix well.
-Transfer to greased loaf pan.
-Sprinkle top of batter with sesame seeds.
-Bake for 30 minutes at 350 degrees or until toothpick inserted comes out clean.
-Allow to cool completely before removing from loaf pan.
-Slice into 12-14 slices.
Nutritional information per slice (based on 12 slices):
Calories=138, Fat=11.9 grams, Protein=5.5 grams, Net Carbs = 3.6 grams